- Order processing: 24h
- Shipping: Mon - Fri*


Last order for next day shipping is 22:00 local time Vienna, Austria
Fast and efficient customer support by e-mail. We reply within hours!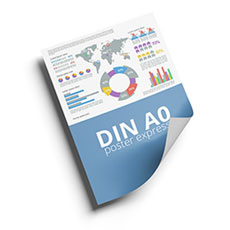 SCIENTIFIC POSTER EXPRESS
silk matte & knit-free polypropylene (180gsm)
all size one price:
- DIN A0 ... or ...
- 90cm x (up to) 160cm
Scientific Poster Printing Europe

Our printing service is ideal for pharmaceutical agencies and companies that need to showcase their research and findings at conferences, trade shows, or other industry events. With our service, you will receive professional-looking poster that will impress your clients, colleagues, and competitors. Scientific posters is what we specialize for!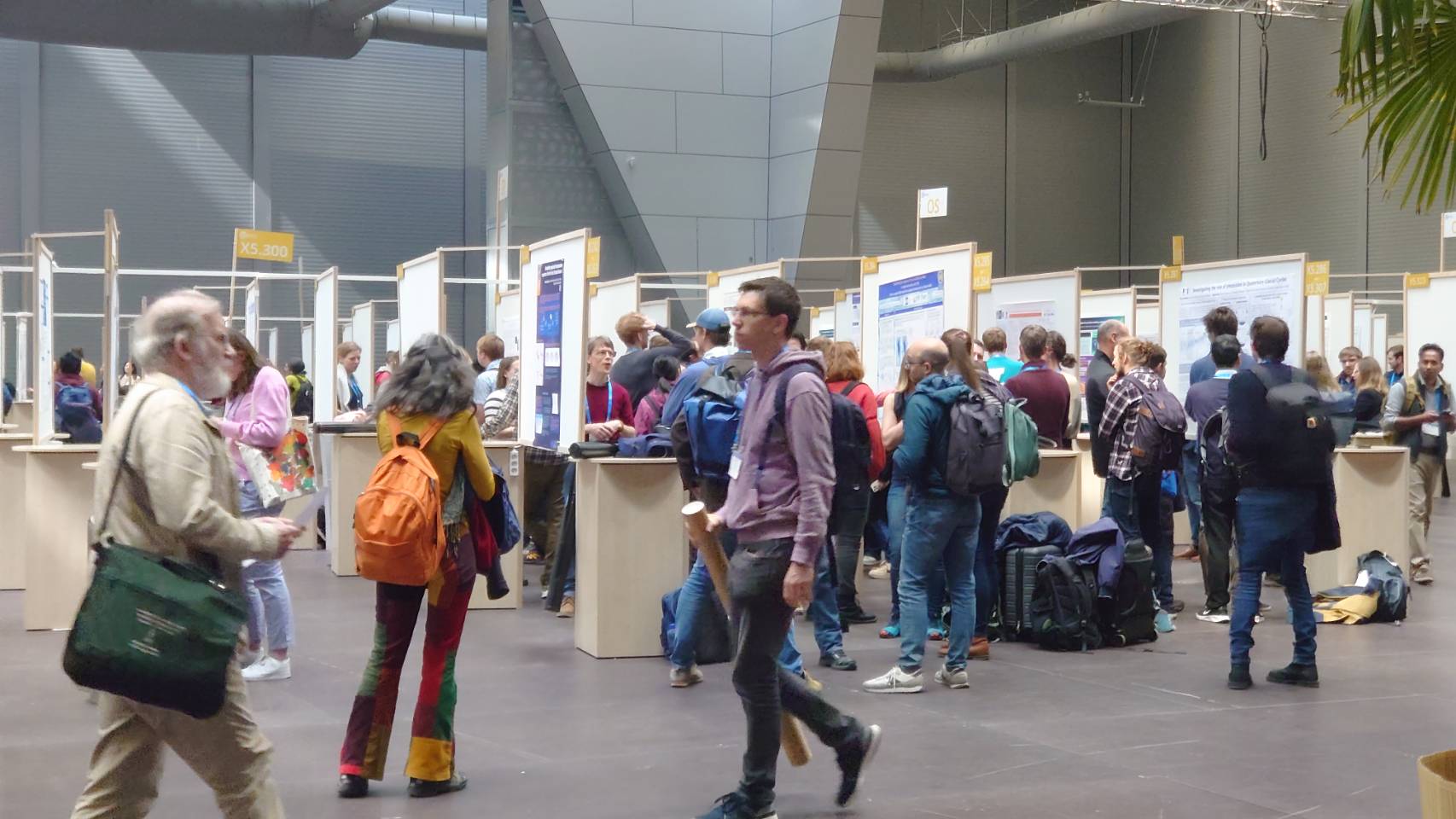 EXPRESS Production & Delivery
Benefit from our efficient express production and reliable delivery by UPS for your scientific posters. Our streamlined printing process ensures your posters are produced with speed and precision, while UPS ensures secure and on-time delivery to your desired destination. Get your high-quality posters fast and in perfect condition with our efficient production and trusted shipping partner.
Local Service in Vienna
When you require your poster in Vienna, you can take advantage of our exceptional scientific poster printing services in Vienna. Our production site is located near major convention centers, allowing us to provide fast production and delivery for your posters. Even without the use of any 3rd party courier service. We deliver with our in-house team within Vienna! Whether you're hosting a conference or attending an event, we offer a convenient and seamless ordering process. Trust us for top-quality prints and reliable service tailored to your Vienna event.
EU / EEA Delivery
Many locations within the EU can be reached by overnight shipping. But you can also select 2-3 business days if your shipment is not time critical. All orders come of course with a tracking link so that you can monitor the progress of the shipment!
Hotel Delivery
If you or your client/representative is attending a conference or event, we can even ship your poster directly to your hotel. Just provide us with the necessary details such as hotel address, guest name and check-in date. We'll take care of the rest!
Please read before ordering
Enjoy simplicity with our printing service. We have covered common sizes, whether it's DIN A0 or a little larger, we offer one flat price for all poster sizes. Say goodbye to complicated pricing structures and hello to straightforward, affordable printing for your scientific posters.

Portrait or Landscape Format
Side x: up to 91 cm = 910 mm = 36 inch
Side y: up to 160 cm = 1600 mm = 63 inch

Example: DIN A0 (grey in image) = 841 mm x 1189 mm

What is DIN A0?
DIN A0 is a standard paper size commonly used for posters in Europe. It measures 841 mm by 1189 mm
(US customers - that's 33.1 inches by 46.8 inches)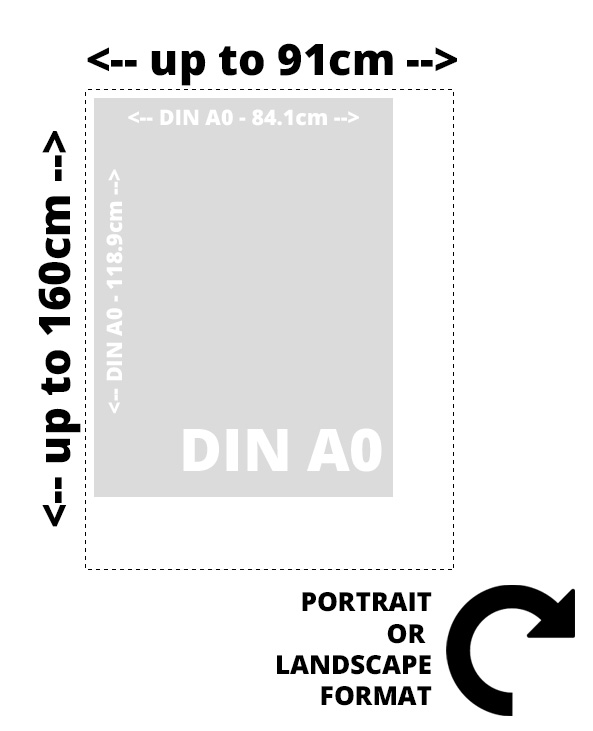 For optimal printing results, we recommend submitting your print files in PDF format with a resolution of 300dpi (dots per inch). This ensures sharp and vibrant output for your scientific posters. However, we understand that different file formats may be more convenient for you. That's why we also accept files in PowerPoint and various other formats. Our goal is to make the process as easy as possible for you, while still delivering outstanding print quality.

At our scientific poster printing service, we take care of the technicalities for you. You don't need to worry about adding bleeds or trim lines to your print files. Our expert team will handle it all for you. We will ensure that your posters are professionally prepared with the necessary bleeds and trim lines to guarantee a flawless final result. Sit back, relax, and let us take care of the details while you focus on the content of your scientific poster.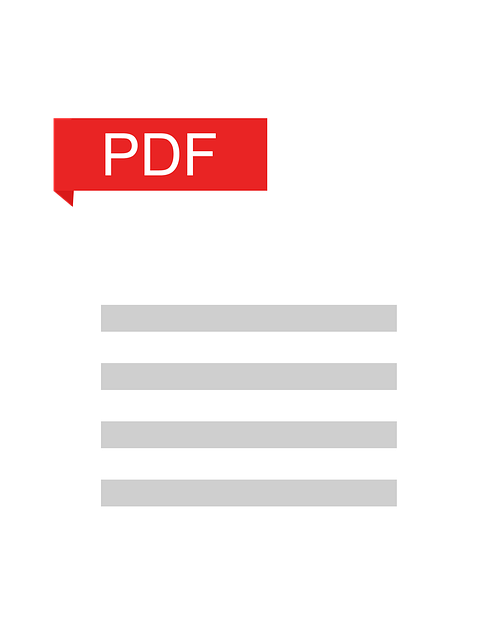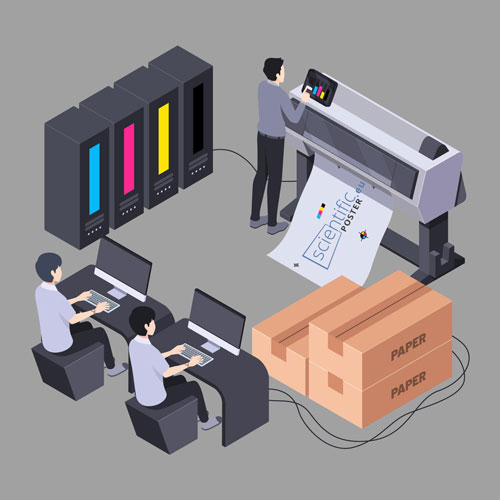 Our streamlined production process ensures a hassle-free experience for our customers. Here are the three simple steps:


Customer Contact and File Check: Once you place your order, our team will promptly get in touch with you to confirm the details and perform a thorough check of your files. We ensure that everything is in order for a flawless printing process. Additionally, we'll verify the delivery details to guarantee accurate and timely shipping.



Print Production with Large Format Printer: After the file check, your posters will go through our large format printer. We utilize cutting-edge technology to ensure exceptional print quality, vibrant colors, and crisp details. Our expert technicians oversee the production process to maintain high standards. We only use solvent and heavy metal free inks!



Next Business Day Shipping: As soon as your posters are printed and quality-checked, we prioritize swift shipping. We partner with reliable UPS shipping services to ensure your posters are dispatched on the next business day. This allows for prompt delivery, so you can receive your posters in a timely manner and be ready for your upcoming event or presentation.


At every step of the process, our focus is on delivering a seamless experience and superior results. Trust us for efficient customer service, precise printing, and speedy shipping to meet your scientific poster needs.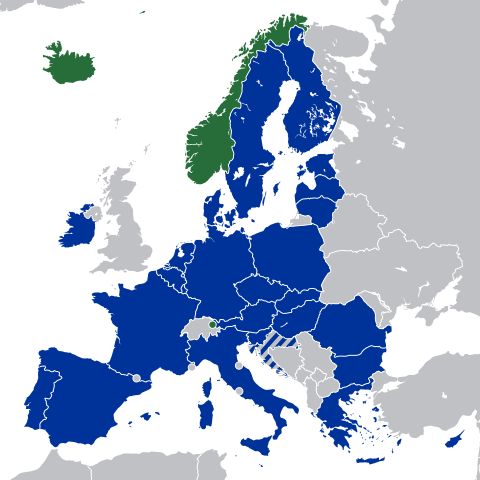 We offer shipping services to all European countries within the European Economic Area. With our reliable shipping partner UPS, your posters will be carefully delivered to your desired location in a timely manner. Rest assured that your posters will arrive in pristine condition, ready to impress your audience. Experience seamless international shipping for your scientific posters with our trusted service.

We provide flexible delivery options tailored to your needs. Whether you or your client is staying at a hotel, have a commercial address, or require delivery to a logistics manager for congress centers, we've got you covered. We can even deliver directly to the reception desk of your event venue (please verify availability).

Simply let us know your preferred delivery location, and we check together with you all details for an hassle-free delivery experience.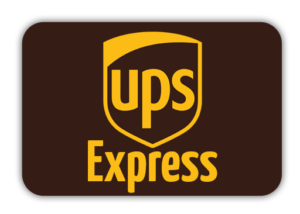 If your event is taking place in Vienna, Austria the delivery is handled by our professional in-house delivery team. We deliver to all locations within Vienna without the use of any 3rd party courier service. 100% satisfaction guaranteed.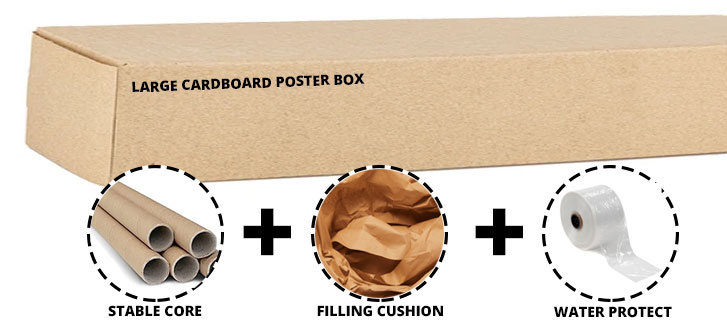 We prioritize the safe delivery of your posters. To ensure their protection during transit, we employ careful packaging techniques.

Each poster is carefully rolled and placed inside a stable cardboard box. The boxc itself is reinforced with a stabilized core to prevent any bending or damage to your posters. This ensures that your posters remain in pristine condition throughout the shipping process.


To provide additional protection against moisture or unexpected weather conditions, we utilize extra waterproof packaging. This inner layer safeguards your posters from any potential water damage, ensuring they arrive in perfect condition.


Furthermore, we take great care in adding ample filling material inside the package. This additional padding helps absorb shocks and prevent any movement during transportation. Your posters are surrounded by a cushioning layer to minimize the risk of any external impacts.

Rest assured that we prioritize the integrity of your posters and go the extra mile to ensure their safe delivery. With our careful and thorough packaging methods, your scientific posters will reach you in optimal condition, ready to be displayed or presented.
When do I need to submit the poster files the latest?

To ensure a smooth and timely production process, we recommend submitting your poster files at least 24 to 48 hours before selected shipping date. This timeframe allows us to perform a thorough file check, ensure optimal printing settings, and address any potential issues or adjustments that may be required.

Examples:
File arrival --> Production within 24h --> Dispatched next day with 2-3 business day shipping service = Total 1 + 2-3 business days

Poster file sent on Friday until EOD --> Weekend production --> Dispatched on Monday with arrival by mid of week at our destination.

Urgent case example: File arrives on (Wednesday) EOD --> instant production --> Dispatched next day (Thursday) --> arrival the following day (Friday)

We highly recommend to contact us in urgent cases and check with our customer service about the details: info@xest.at

When does the delivery arrive?

After successful production we dispatch your posters on the next collection day. UPS collects orders daily from Monday - Friday at our office.

Please remind to check public holidays in Austria and your target country. Of course our customer service will check with you if you contact us!

UPS delivers at the target country Mon - Fri, except public holidays.

We offer to ship with the following option:

UPS 3-4 business days
UPS 2-3 business days
UPS next business day

A tracking number will be provided to you as soon as the delivery leaves our office!

All orders within Vienna, Austria are directly delivered by our in-house delivery team Mon - Sun.

(Additional Service) Poster printing and collection desk...

...for your Event in Vienna

Are you organizing a scientific conference in Vienna? Do your participants need to present their research results as posters at the event?

Look no further! We offer dedicated and reliable poster printing desk service. We understand the importance of a seamless process for your event, which is why we offer an on-site poster collection desk at no extra charge for events as small as 50+ posters to be presented. The collection desk also helps your clients with the online ordering and payment process. All our staff are speaking English fluently and even several additional languages!

With our efficient system, we can handle up to 200 poster orders per day, ensuring timely delivery to all participants.


Customer satisfaction is our priority. We provide fast and responsive customer support via email, and our online ordering process tailored to your event is simple and convenient. As your official printing partner, we offer special rates to your clients, giving them a pricing advantage.


To make things even smoother, participants can submit their poster orders online up to 24 hours before on-site collection. Our customized ordering platform is tailored specifically to your event, streamlining the process and eliminating any hassles.


For larger conferences, we allocate our print resources exclusively to your event, ensuring prompt and efficient service. Trust us to deliver outstanding posters that showcase the research and findings of your participants with our commitment to high-quality printing.


Choose XEST & Scientificposter.eu as your trusted partner for poster printing at your Vienna conference. Contact us today to learn more about our services and how we can contribute to the success of your event.

Example Reference: Event Particpants: 19k | Days: 5 | Printed Posters: 1200+ | Peak collecton day: 250 posters | On-Site staff provided by XEST: 3 to 5 | Posters printed daily within 24h: 150-200 | Handling errors (eg. forgotten or damaged prints...): 0 ... that's right ... zero ... | Customer satisfaction: 100% | Photos shown above are no stock photos but actual real world examples!

Great service. Communicated well and delivered our conference poster directly to our hotel for pick up exactly when we needed it.
Fast, efficient, reliable. Had to print a poster last minute for a conference. Staff was super kind and available. Definitely recommend!
I wish XEST existed everywhere - they provide such convenient, helpful, fast, reliable, and quality printing service! I was worried about getting my poster printed in time for a conference, but they were able to print
I cannot recommend XEST Nimmerrichter highly enough. They saved me when my poster went missing travelling to an important conference. The service is fantastic - they delivered to a location that suited me at a time that suited me. They were extremely polite and friendly and I am so glad that I found them when I needed them! The poster was printed exactly as requested and the quality is great. I would definitely use them again
Helpful, efficient and very friendly service. Strongly recommended. In my case I needed a poster printed for a conference and their service couldn't be more convenient. 5 stars!
Fast, efficient, well priced service. Good communication from the team meant that I that got my poster to the conference venue on time in the easiest way for me. Thoroughly recommend them
Provided more than I expected, from responding to my emails prior to my leaving the U.S. to printing my poster flawlessly to delivering to the meeting. As a result my poster stood out from the posters around it
Best poster printing service I have ever used. They went above and beyond